Podcasts: Crossing the River of Ethereum Governance, with Hudson Jameson
BlockChannel Episode 71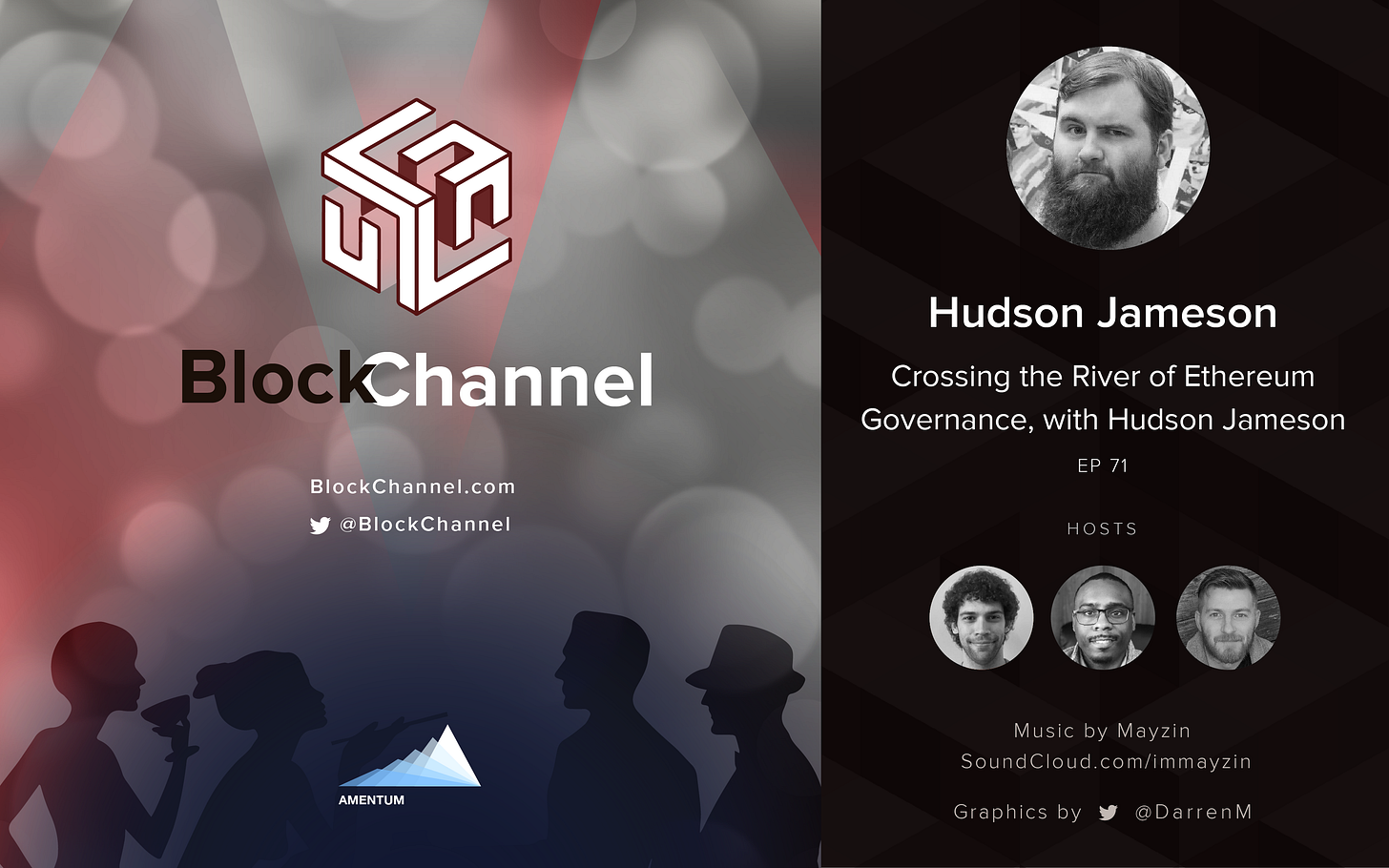 On this episode of BlockChannel, McKie, Dee and Dr. Petty finally get a chance to sit with one of their favorite members of the Ethereum Foundation, Hudson Jameson. As one of the main managers of the EIP process as an active DevOps manager at the Ethereum Foundation, Hudson has a very high-touch role in managing and interpreting the emergence of developer consensus around the Ethereum protocol. Governance can be a complex topic, and one that is often misunderstood since decentralized protocols are self-sustaining systems — but it's incredibly important to understand how decisions and improvements are made in these trust-less ecosystems. Come dive in with us and learn more about how Ethereum get its updates from Hudson himself.
Show Link(s):
Ethereum Foundation: https://ethereum.org
Intro/Outro Music "Proud of Me" by MAYZiN:

Show Sponsor(s):
Amentum: https://Amentum.org
Disclaimer: This is not investment advice, it is an engaged discussion on new technology; BlockChannel reminds you to always do your own due diligence before investing in any crypto-related project in the industry.
More ways to listen to BlockChannel 🎧:
⚡️Overcast: Subscribe on Overcast
⚡️Spotify: Subscribe on Spotify
⚡️iTunes: Subscribe on iTunes
⚡️Stitcher: Subscribe on Stitcher
⚡️Google Play: Subscribe on the Play Store
⚡️Tunein: Listen on Tunein