The Amentum Method
Building Longterm Value in Burgeoning Crypto Assets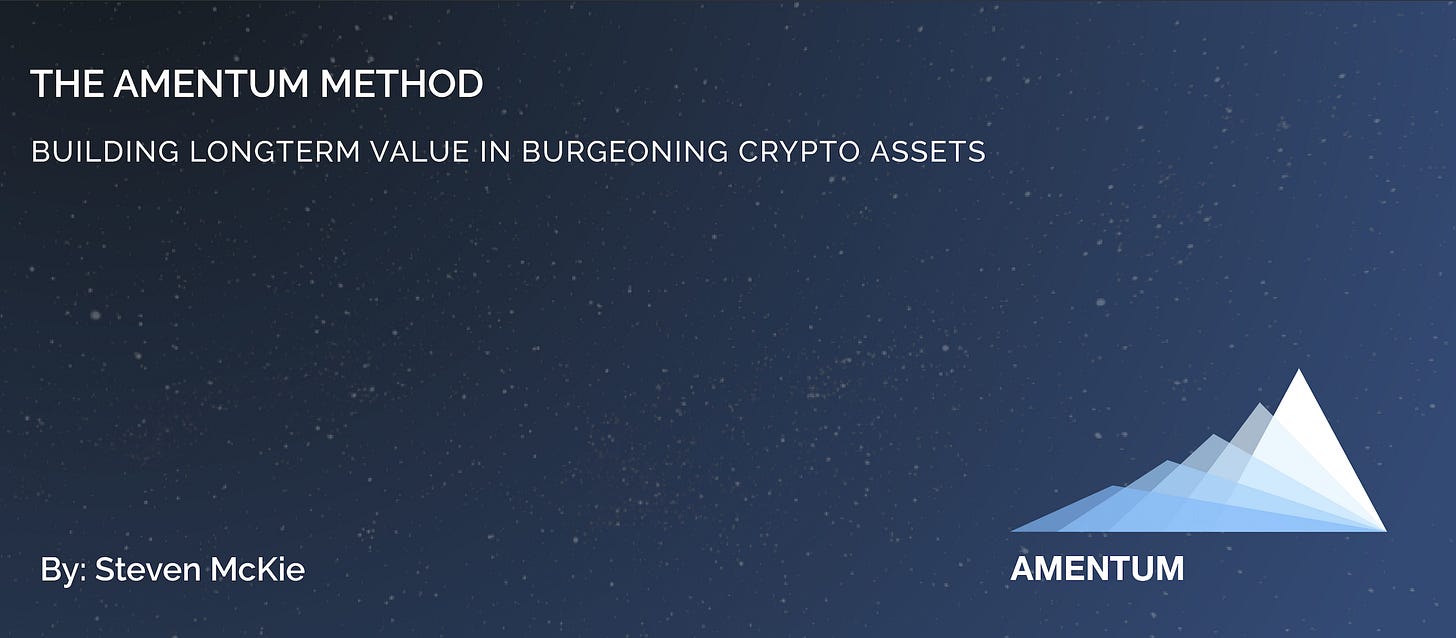 Note: This post was originally published December 23rd, 2018 on the Amentum blog: https://medium.com/amentum/the-amentum-method-49bf4519b8ef
As we see continued ebb and flow of bulls and bears in the liquid crypto markets, it's important to remember all the hard work that was put into building during 2018. That said, we have a general thesis for how we approach crypto investment (VC and managing liquid crypto asset positions) that we believe is one of the best ways to support this unique and burgeoning asset class that we've further dedicated ourselves to over the last year. Here's that general methodology laid out for all to reference.
While initially building and ramping up our firm over the last year, we've made some very exciting investments. We learned the importance of a flexible, hybrid structure, when investing in the digital asset space; while simultaneously utilizing a dualistic strategy to both generate alpha, and creating a viable pipeline of deal flow and private investments that support the longterm growth of our liquid portfolio (shoutout to all the members of the Crypto Fund Working Group (CFWG)).
Further, we learned the importance of regulation and how it plays a major role in the expansion and contraction of a new major asset class; as market cycles come and go, the role of regulators plays a further role in both legitimizing, and hastening the pace of these cycles; cycles whose prevailing trail we follow and analyze to adjust and rebalance our strategies and portfolios where needed.
Doing this, however, takes a unique amalgamation of skills. As we've discussed in the past — and have continued to stress — the many different ways that crypto was going to change investing, we're comfortable in how we plan to approach these new paradigms as they emerge.
Our method requires the expertise of lawyers, software engineers, investment bankers, trading experts, educators, and a multitude of behavioral sciences and other skills — there are too many to name — and the list seemingly grows by the weeks and months.
Thankfully, we've assembled quite the teamto tackle this head-on and get things started the right way; conservatively and with tempered patience as many try and fail to find a way to play a role in this impending evolution of money and value.
Where Our Focus Lies
While providing an engineering and financial savvy mindset, coupled with over six plus combined years of experience (and many of those spent educating others), we're able to provide advisory in both business, product and technical-related functions. We've individually worked with some incredible Founders over the years (both inside and outside crypto), but the pool of talent is growing at a dizzying pace, and we honed on the segments that we think can provide the most value long-term.
In addition to the skills above, there is the emerging expertise in both the legal and regulatory requirements for funds, and how that will continue to evolve alongside the legality and growth of securitized offerings; if securitized token assets grow into a major component of the ecosystem, we've the appropriate partnerships and investments in place to be poised and ready to leverage them accordingly.
As technologists, engineers, analysts, and finance nerds, we build and piece together what the future of the crypto-industry will look like alongside the developer talent in realtime — while standing on the shoulders of giants, many of which we call friends, advisors, and partners.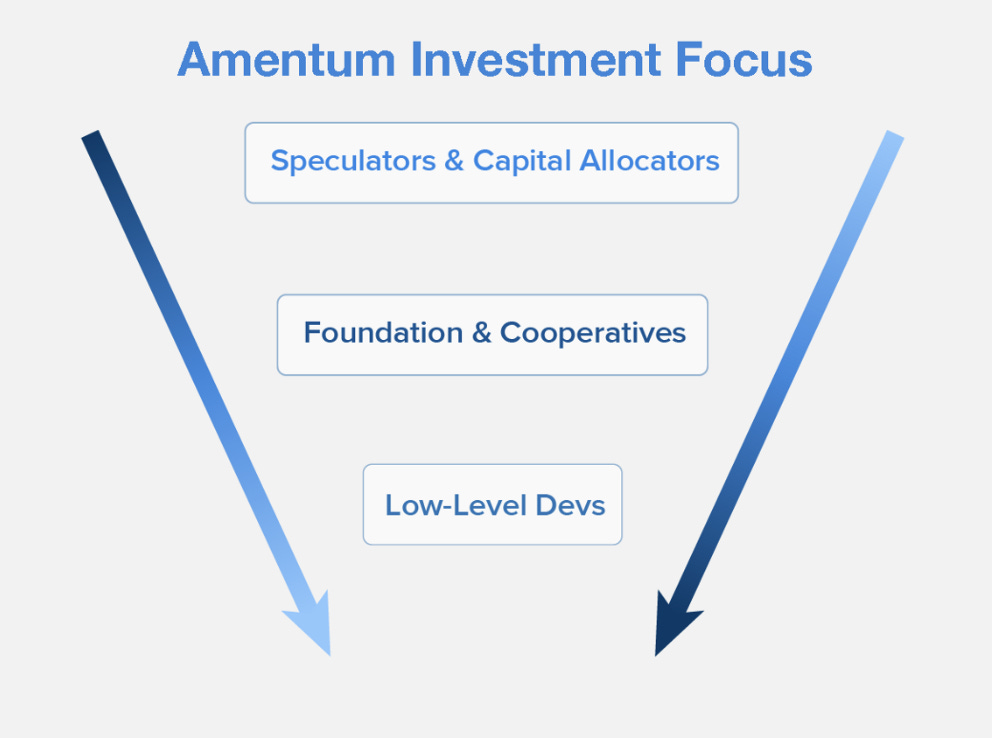 We operate up and down the funnel of the industry supplying signal, technical expertise, general knowledge, and in worthy cases, capital. A combination of education, direct engagement, advocacy, and technical leadership, allows us to be a modular value-add anywhere we are needed.
Events, Education, & Advocacy
While you are providing insights and allocating capital alongside the leaders of the tomorrow, your job would not be complete if you didn't share and enrich others with that same knowledge.
In an ever-evolving ecosystem like ours, there is rampant esoterica, and much of it happens due to the searing pace as to which our industry grows. But, our firm seeks to fill in the gaps. Ensuring no stone is left unturned, and no curious speculator or hopeful future participant in our new digital economy is left behind is yet another important role that we play, everyday.
With that, we did not just attend, but we played a useful and educational role in all the events we were invited to in 2018. From panel discussions, to workshops, to lecturing the young scholarly mind of tomorrow, we were there. We charged no speaking fees, took no travel assistance, and volunteered our expertise everywhere we thought we could inject value; awarding bounties, and supporting innovators of all types (here's a bonus video of us at Howard University).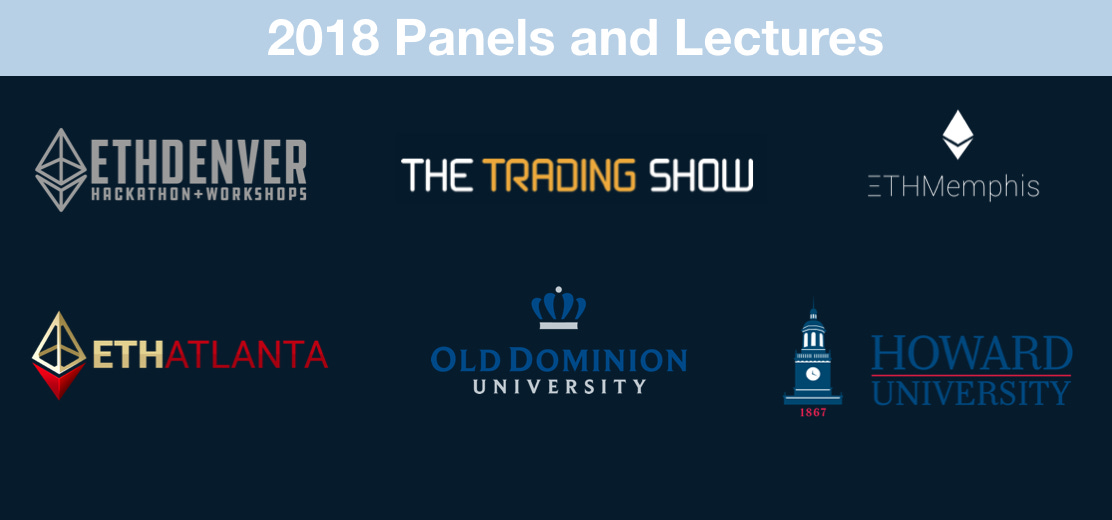 Thank you to all the fantastic organizers and administration that invited us to speak at the above events and universities — and all the opportunities we couldn't list. We hope to come back in 2019, and add more as we continue to scale and grow our team.
Our Sustainable, Diverse, and Interoperable Future
This year was wrought with challenges, as well as new opportunities for intense growth and learning. Operating in and out of so many verticals is both overwhelming, yet extraordinarily rewarding. We've invested in and advised a diverse set of founders and teams; all while seeking to build tools for the interoperable future of crypto/blockchain-based assets services. Each of which will play a crucial role in making all the components of our future decentralized economy run like a well-oiled machine.
To have all that is nothing without sustainability. So, we've doubled-down on researching and understanding the emergent governance structures (special thank you to our new advisor, Matthew Prewitt), and the inherent social and technical scalability of these assets and communities. Only by continually exploring and sharing the best methodologies for investing in this ever-evolving arena of complexity, can we quickly grow the pie for our collective societal betterment, all around the globe.
You Can't Hard Fork Hustle
Though the rise of copycats is inevitable, you cannot hard fork hustle, and you can't mimic the track record and hard earned community trust. For a technology that often brags on its ability to be "trust-less", we spend a lot of time in person building trust to help build and grow this creeping behemoth together — you can't copy that. But, you can copy our methods, and join us. We will work together with every enlightened crypto-dreamer that understands why we are here — to build and make this thing whole, and by any means necessary.
Special thank you to Andrew Lee, Kevin Zhou, Olaoluwa Osuntokun, Michael Prewitt, our lawyer Alexander Lindgren, and Joseph Poon. You all have been pivotal in us making it this far, catching our stumbles and educating us accordingly. And to all our LPs, Jihan Wu, and my dear friend Ari Paul — the best is yet to come!
Subscribe to our Newsletter to get this in your inbox:
Amentum GP Newsletter
Essays and analyses from the Amentum GP team.amentum.substack.com